Every marketer loves to win – and an often-used measure of success is new customer acquisition. It's no wonder we spend so much time (and money!) trying to answer: What are the best channels, messages and timing to acquire and engage new customers?
Though it will always be critical to fill the funnel, it's equally important – and most would agree less expensive – to make sure your existing customers are happy. Of course, loyalty programs have been around for ages (toys in Happy Meals, buy-one-get-one-free perks, come-back coupons handed over following a purchase, or credit card points). But, customer loyalty programs and other retention tactics are as much about customer service as they are about rewards.
In addition, Brand Keys, the company behind the Annual Customer Loyalty Engagement Index (CLEI) released the 19th survey in 2015, in which they say consumer expectations have increased by 28% across the 64 categories. (Forbes, Brand Keys) In 2015, new categories were App-based Ridesharing and Breakfast Bars. If you're a fan of some of these brands, you're among others who pledge their loyalty this year.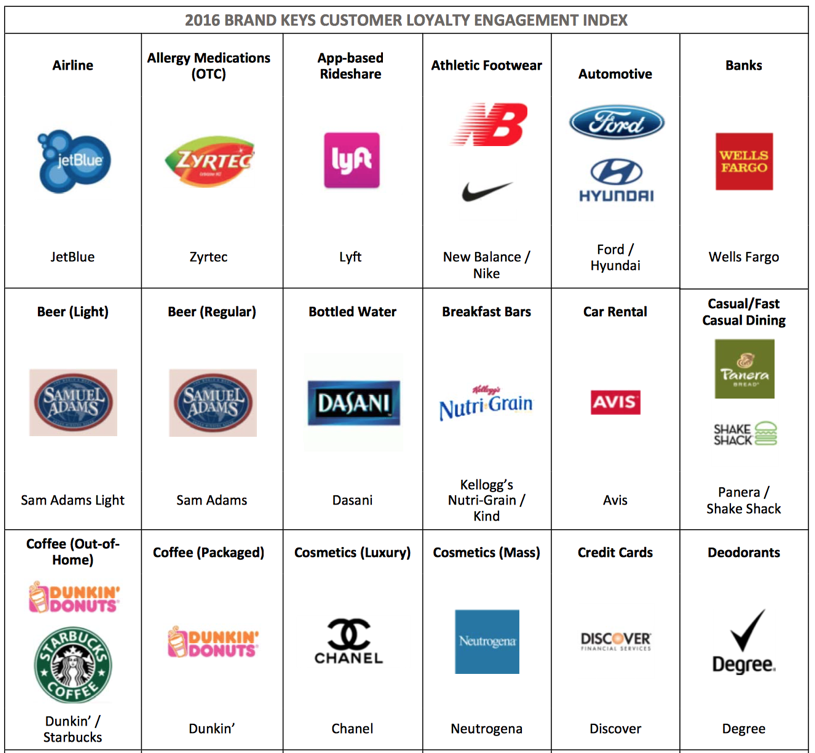 Brand Keys 2016 Customer Loyalty Engagement Index Snapshot (Source)

Loyalty – it's not just a phase…it's in every phase of the Customer Journey
Why is a customer loyalty program – one that offers benefits to customers who make repeat purchases or spend their time, dollars, and even social currency with a company – so important in a customer's relationship with the brand? Because:
The perks could be the reason someone signs up or makes a purchase in the first place. This could be the driver behind acquiring a new customer.
Re-inforcing the perks throughout a customer's first few experiences with a brand as they are onboardedmay be the start of a life-long relationship.
If a customer is presented with opportunities to maximize their loyalty rewards and receives smart, targeted communication based on their lifecycle milestones, their individual needs, and preferences, they are more likely to continue to support the company. This includes not only with dollars, but referrals, repeat purchases, and even social media and public brand retention and advocacy among their communities, thus bringing in new customers. And we're back at the acquisition phase again!
Basically, the loyalty program is the connective tissue that drives personalized rewards and recommendations throughout a customer's evolving relationship with a brand – from start to … well, hopefully it's never finished.

Loyalty programs don't stop at 'Earn Points' or 'Dollars Off'
Loyalty programs surprisingly come in many shapes and sizes. Let's take a look at some of the unique types of membership rewards programs serving customers across industries:
Community-Driven Membership Loyalty Rewards
Cooperative – members are invested in the success of the organization.

Example: REI's Co-Op Dividend membership benefit. According to REI, your dividend is your share of the co-op's annual profit. So, the more you spend, the more you're contributing to the 'everyone wins' mentality.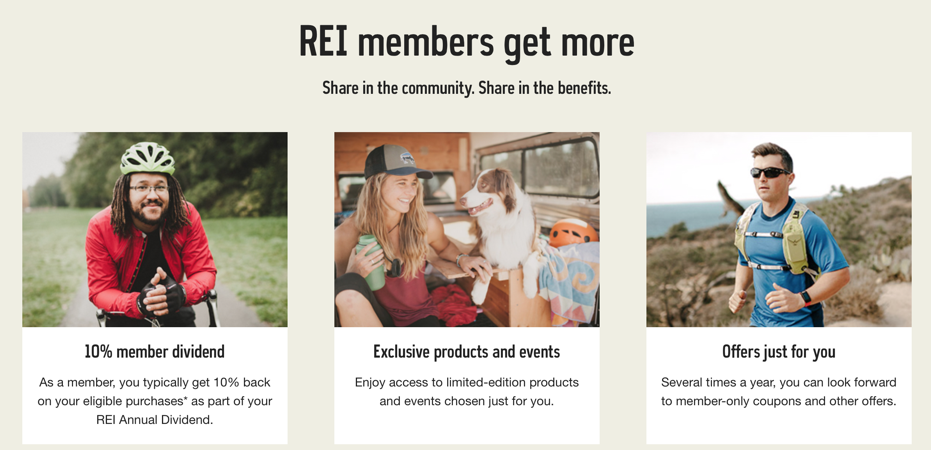 Community Movement & Loyal to a Cause

Example: American Express' Small Business Saturday. When you support small businesses the Saturday after Thanksgiving, you'll get discounts from participating merchants.
Refer a Friend Customer Rewards
Lyft – Referral Rewards for Drivers – Drivers can get a $10 bonus for referring passengers.
TheSkimm – Skimm'bassadors and theSkimm readers can refer their friends to sign up for the newsletters or download the mobile app to win referral points and prizes.
Switch Loyalty to Earn Rewards
Multi-visit Loyalty Rewards
We see 'the more you visit or spend, the more you earn' often in the restaurant, travel, and entertainment industries. Such as:
The More You Spend/Get-to-the-next-level Rewards
Sephora's Beauty Insider rewards program provides perks when customers reach spend levels, which could even provide free shipping or customer makeovers.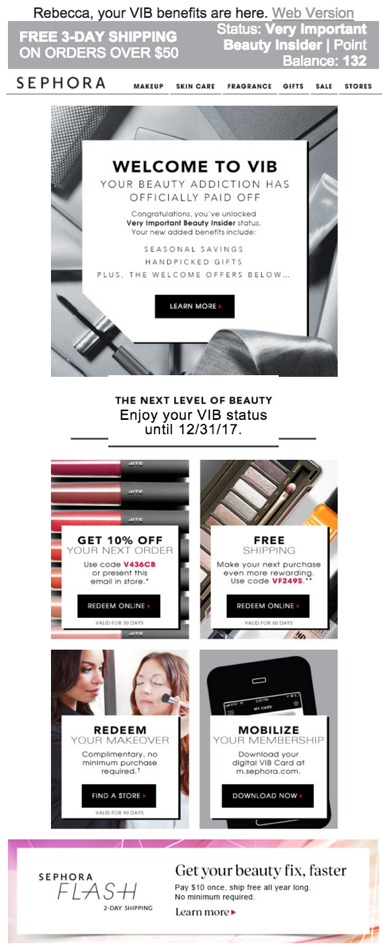 Sephora's VIB Level welcome email highlights the level's rewards, including 10% off the next purchase, free shipping, a free makeover, and highlighting the benefits of using the mobile app to stay connected for even more rewards. Notice loyalty point status is highlighted in the top right header for easy reference.
Multi-brand Program Customer Rewards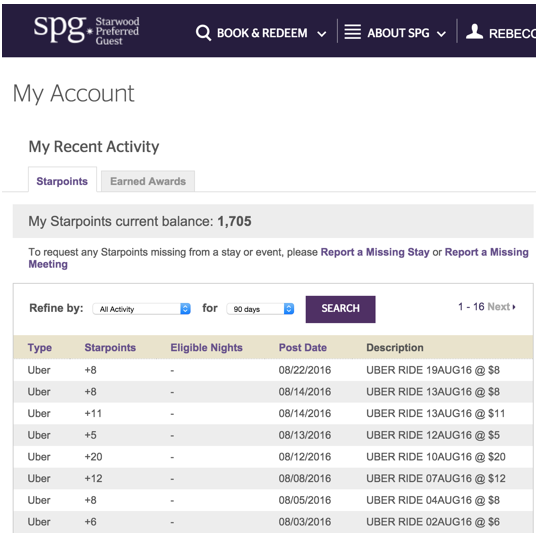 You can check your Starwood Preferred Guest points including those coming from Uber rides in My Account on the Starwood website or mobile app.
Un-brand Loyalty Rewards
American Express is behind the Plenti rewards program that rewards shoppers at their partner merchants, such as Exxon, Hulu, Rite-Aid, AT&T, Enterprise rental car, Expedia and more. You don't have to spend with an AmEx and can earn points just by spending at participating brands.
If you've ever been a AAA member for auto protection coverage, you know that it comes with fringe benefits in the form of deals just for being a member.
Brand-Exclusive Membership Rewards
Costco memberships are required to shop at their stores.
Walgreens Balance Rewards awards shoppers with 10 cents for every $1 spent on most purchases to be redeemed on future purchases.
Amazon Prime paid membership is the pledge of allegiance to the mega online merchant and includes perks like free shipping and media streaming.
Banana Republic credit card members can get upgraded to Luxe status after achieving a spend level, thus earning rewards like free shipping for online orders and choose-your-own-sale day.
Local Deal Loyalty Rewards
Zipcar offers deals to its short-term rental drivers who need a paid membership to use their services.
Now that we've taken stock of where loyalty programs stand today across industries and different types of programs available, stay tuned for a follow up blog post on smart strategies for communicating with your loyalty program membership.
Have we left any loyalty program types out or have a favorite loyalty program to share? Let us know in the comments who you think is doing loyalty well! 
Source: Best Examples of Customer Loyalty and Retention Marketing – Salesforce Blog